I have lots of fun events going on to celebrate my #WhoKilledDianaFerguson campaign. This campaign is aimed at spreading the word about my mystery with a touch of romance, Twenty-Five Years Ago Today, which is available in multiple e-book formats and as a brand new audiobook for Amazon, Audible and iTunes.
You'll find retailers and reviews here. Watch my blog over the next week and a half for fun blog posts about Diana, the mysterious murder victim from Twenty-Five Years Ago Today. You'll read an article about her death, find out 10 facts about her, see a book trailer video with her picture in it, and book clubs will receive some questions they can use to discuss Diana and the other characters. In the meantime, have you gotten your freebies yet?

Freebies from the #WhoKilledDianaFerguson Campaign:
1.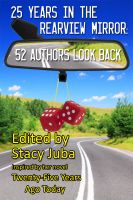 Get 25 Years in the Rearview Mirror: 52 Authors Look Back, the companion book to Twenty-Five Years Ago Today, for free at many e-book retailers. Includes a bonus scene highlighting the last day of Diana Ferguson's life! Download details here.
2. Download the brand new free audiobook edition of my short murder mystery, Laundry Day. Performed by award-winning narrator Nicole Poole, who is an Audie Award Finalist, AudioFile Earphones Award recipient, and a recipient of the Publisher's Weekly Listen Up Award. Since this month is all about mysteries on my blog, this was the perfect time for Nicole and I to unveil our collaboration as a free gift to our readers and listeners. Also a free e-book. Download details here.
3. Would you like to read a deleted scene from Twenty-Five Years Ago Today and get a behind-the-scenes peek into how authors go about doing rewrites? Sign up for my newsletter and you'll get the free scene and an interview with Twenty-Five Years Ago Today heroine Kris Langley in your welcome message. Sign up here and you'll receive 6 issues per year and special perks.