My #WhoKilledDianaFerguson campaign is in full-force. Barmaid. Artist inspired by Greek mythology. Diana Ferguson, the main character from my mystery/romantic suspense novel Twenty-Five Years Ago Today, had many layers to her personality.
Want to catch a glimpse of Diana? Check out the fast-paced book trailer. (Please note that it was created a few years ago and currently the book is only available in e-book and audiobook formats.) If you enjoy it, please head over to You Tube and click the like and share buttons! Check out the hashtags #WhoKilledDianaFerguson and #DianaFerguson on Twitter to help spread the word.
Listen to a sample of the audiobook edition on Audible! Find e-book and audio retailers, and lots of reviews, here.
Freebies from the #WhoKilledDianaFerguson Campaign: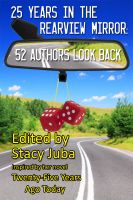 Get 25 Years in the Rearview Mirror: 52 Authors Look Back, the companion book to Twenty-Five Years Ago Today, for free at many e-book retailers. Includes a bonus scene highlighting the last day of Diana Ferguson's life! Download details here.
Download the brand new free audiobook edition of my short murder mystery, Laundry Day. Performed by award-winning narrator Nicole Poole, who is an Audie Award Finalist, AudioFile Earphones Award recipient, and a recipient of the Publisher's Weekly Listen Up Award. Since this month is all about mysteries on my blog, this was the perfect time for Nicole and I to unveil our collaboration as a free gift to our readers and listeners. Also a free e-book. Download details here.
Would you like to read a deleted scene from Twenty-Five Years Ago Today and get a behind-the-scenes peek into how authors go about doing rewrites? Sign up for my newsletter and you'll get the free scene and an interview with Twenty-Five Years Ago Today heroine Kris Langley in your welcome message. Sign up here and you'll receive 3 issues per year and special perks.