First of all, let's clarify that Diana Ferguson is not real. She's the murder victim in in my mystery/romantic suspense novel Twenty-Five Years Ago Today. But, my #WhoKilledDianaFerguson campaign has been getting so much attention on Twitter (thanks to all my followers!) that you'd think she actually existed. Over the weekend, the book became a Nook and Kindle bestseller – hitting the Top 5 in the overall Nook Store and Top 30 in the Paid Kindle Store. I hope you enjoy the following excerpt from the book, in which aspiring reporter Kris Langley learns about Diana for the first time on the microfilm. And be sure to scroll down past the excerpt for some free gifts!
Frowning, Kris stared at the bold black headline splashed above the subhead "Body Found In Fremont State Woods." For the second time, she skimmed the article about Diana Ferguson.
FREMONT – A 21-year-old cocktail waitress reported missing was found bludgeoned to death Saturday night in the woods behind the Fremont State College baseball field. Police have identified the victim as Diana Marie Ferguson of 22 Hutchins Circle.
Ferguson, daughter of Irene and the late Joseph Ferguson, had been missing for two days. She waited tables at Rossi's Bar, and apparently left work early Thursday night to meet friends at Campus Pizzeria on Robinson Avenue, police said.
She was last seen alive shortly after 9 p.m., when witnesses said she left the pizzeria with a former boyfriend, Jared Peyton, a senior at Fremont State College.
A student discovered the body while walking in the woods. Police responded to a call at 11:30 p.m. and removed the body, which was wrapped in a garbage bag.
Ferguson's car, a 1975 Chevy, was found behind the former Salvatore's Restaurant on Purchase Street. The restaurant has been vacant for a year.
According to Detective Gerald Frank, Ferguson had been hit in the head with a blunt object. Police believe she was killed at another location. There were no traces of sexual assault, police said.
"She wanted to be an artist," said her sister, Cheryl Soares, a substitute teacher at Fremont High School. "She had all these plans. Diana was such a good person. I can't believe she's dead."
According to Soares, her sister had been due back Thursday at midnight and never stayed out late without calling. By 2 a.m., her mother grew worried, telephoning friends and co-workers.
Ferguson is survived by her mother, sister, several aunts, uncles and a nephew. Funeral arrangements are incomplete and under the direction of the Bellwood Funeral Home. Police are investigating the case. Frank says he does not recall any other murders in the history of the town.
Listen to a sample of the audiobook edition on Audible! Find e-book and audio retailers, and lots of reviews, here.
Freebies from the #WhoKilledDianaFerguson Campaign: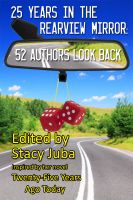 Get 25 Years in the Rearview Mirror: 52 Authors Look Back, the companion book to Twenty-Five Years Ago Today, for free at many e-book retailers. Includes a bonus scene highlighting the last day of Diana Ferguson's life! Download details here.
Download the brand new free audiobook edition of my short murder mystery, Laundry Day. Performed by award-winning narrator Nicole Poole, who is an Audie Award Finalist, AudioFile Earphones Award recipient, and a recipient of the Publisher's Weekly Listen Up Award. Since this month is all about mysteries on my blog, this was the perfect time for Nicole and I to unveil our collaboration as a free gift to our readers and listeners. Also a free e-book. Download details here.
Would you like to read a deleted scene from Twenty-Five Years Ago Today and get a behind-the-scenes peek into how authors go about doing rewrites? Sign up for my newsletter and you'll get the free scene and an interview with Twenty-Five Years Ago Today heroine Kris Langley in your welcome message. Sign up here and you'll receive 6 issues per year and special perks.