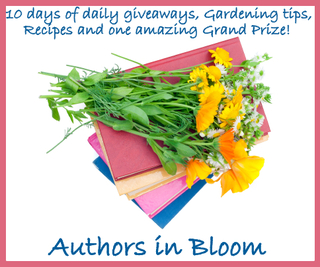 Thanks to everyone for coming by and for all the lovely comments about my book cover and the recipe! Hope you all enjoy the chicken wings. The winner of my giveaway was Renee.
Welcome to the Authors in Bloom Blog Hop – 10 days of daily giveaways, gardening tips, recipes, and one amazing grand prize! We are giving away a Kindle Fire or Nook (winner's choice) along with a $25 gift card. In addition, each blog is giving away a smaller prize. The tour ends April 19th at 11:59pm EST.
I'll be giving away a Smashwords download of my mystery/romantic suspense novel Sink or Swim, about a reality show contestant who attracts a stalker after returning to her normal life as a personal trainer. Each participating blog will also be giving away individual prizes. Be sure to leave comments on each blog post to enter – that's also how you'll be entered for the big giveaway. The more blogs you visit and leave comments on, the more entries you'll have for the Kindle Fire/Nook and gift card.


Since summer will be upon us in a couple short months, I thought I'd share a quick and easy Chinese Chicken Wing recipe that's ideal for barbecues. It is so simple, yet people rave about this recipe. Many friends assumed that the secret ingredient was Teriyaki sauce and then told me in dismay that their chicken wings didn't taste the same as mine when they attempted to make them. It's not Teriyaki sauce – the secret is brown sugar and soy sauce, and the chicken needs to be marinated overnight.
For a party – 4-6 packages of party wings (the small wingettes)
1 bottle lite soy sauce
1 box of brown sugar
If you're just cooking these for dinner for your family, then you can cut the recipe in half.
Mix sauce and brown sugar. Cover wings and marinate overnight. Turn once. Cover bottom of cookie sheet with foil and shortening. Take wings out of marinade and cook at 350 for about an hour to an hour and a half, depending on how many wings there are and how big they are. Cook on a low shelf.
Voila! I hope you enjoy them.
To enter my giveaway for an e-book copy of Sink or Swim, (and for the grand prize) please comment below and leave your email address.
For extra entries:
Follow me on Facebook
Follow me on Twitter
Sign up for my newsletter
Please leave a separate comment for each entry and don't forget your email address. Good luck in the big giveaway! Ready to hop to the other 61 blogs? Follow this link!