My #WhoKilledDianaFerguson campaign is in full-force. Barmaid. Artist inspired by Greek mythology. Diana Ferguson, the main character from my mystery/romantic suspense novel Twenty-Five Years Ago Today, had many layers to her personality.
Want to catch a glimpse of Diana? Check out the fast-paced book trailer. (Please note that it was created a few years ago and currently the book is only available in e-book and audiobook formats.) If you enjoy it, please head over to You Tube and click the like and share buttons! Check out the hashtags #WhoKilledDianaFerguson and #DianaFerguson on Twitter to help spread the word.
Listen to a sample of the audiobook edition on Audible! Find e-book and audio retailers, and lots of reviews, here.
Freebies from the #WhoKilledDianaFerguson Campaign: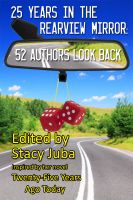 Get 25 Years in the Rearview Mirror: 52 Authors Look Back, the companion book to Twenty-Five Years Ago Today, for free at many e-book retailers. Includes a bonus scene highlighting the last day of Diana Ferguson's life! Download details here.
Download the brand new free audiobook edition of my short murder mystery, Laundry Day. Performed by award-winning narrator Nicole Poole, who is an Audie Award Finalist, AudioFile Earphones Award recipient, and a recipient of the Publisher's Weekly Listen Up Award. Since this month is all about mysteries on my blog, this was the perfect time for Nicole and I to unveil our collaboration as a free gift to our readers and listeners. Also a free e-book. Download details here.
Would you like to read a deleted scene from Twenty-Five Years Ago Today and get a behind-the-scenes peek into how authors go about doing rewrites? Sign up for my newsletter and you'll get the free scene and an interview with Twenty-Five Years Ago Today heroine Kris Langley in your welcome message. Sign up here and you'll receive 3 issues per year and special perks.
Send My Free Storybook Valley Welcome Kit
Get a sneak peek into Stacy's romantic comedy series set at a theme park. Includes sample chapters, princess tips, interviews, and more. You will also be subscribed to the Staycation newsletter, filled with book news, surprise bonus content, and perks for readers.
Stacy Juba has written sweet and sassy chick lit novels, mysteries about determined women sleuths, and entertaining books for young adults and children. Her books include the Storybook Valley chick lit series and the Hockey Rivals young adult sports novels. Stacy is also a freelance developmental editor and online writing instructor whose signature course, Book Editing Blueprint: A Step-By-Step Plan to Making Your Novels Publishable, empowers fiction writers to think like an editor so they can save time and money. She also runs the Shortcuts for Writers: Editing Made Simple group on Facebook. Join her Facebook group and download the free toolkit 7 Simple Steps To Nailing Your Book Blurb. You can also visit her website Shortcuts for Writers and her Hockey Rivals website.