I recently had the opportunity to be interviewed for Muse Camp, an inspirational audio series in which published authors share their journeys to publication and reveal tips for aspiring writers. I discussed my writing journey, which started as a child and led to receiving a lucky break with the publication of my young adult hockey novel Face-Off when I was 18.
Then came years of rejections. Up, down, up, down. It was a literary roller coaster. Finally, I got another lucky break and I feel fortunate to be earning a living by telling stories.
Thankfully, there is no better time to be a writer. New writers do need to learn their craft and learn the business, however, they don't need to struggle as long as I did. There are lots more options than when I started out. I share some of those options, and some tips I've gained along the way, in my audio interview. It will be available on the Muse Camp website from Sept. 18-20, 2013. Stop by to listen, get more author interviews sent to your in-box, and collect more resources.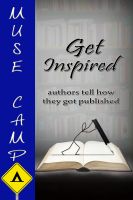 Also, you can download the Muse Camp 'Get Inspired' book free for a limited time. In this second Muse Camp anthology, twenty-one authors tell their stories about becoming published authors. From contest winners to those who submitted and were rejected multiple times, the authors in this anthology all had a unique road to publication. In addition to their "how I got published" stories, authors share their information on marketing, promotion, and getting their books read.
Enjoy!
Send My Free Storybook Valley Welcome Kit
Get a sneak peek into Stacy's romantic comedy series set at a theme park. Includes sample chapters, princess tips, interviews, and more. You will also be subscribed to the Staycation newsletter, filled with book news, surprise bonus content, and perks for readers.
Stacy Juba has written sweet and sassy chick lit novels, mysteries about determined women sleuths, and entertaining books for young adults and children. Her books include the Storybook Valley chick lit series and the Hockey Rivals young adult sports novels. Stacy is also a freelance developmental editor and online writing instructor whose signature course, Book Editing Blueprint: A Step-By-Step Plan to Making Your Novels Publishable, empowers fiction writers to think like an editor so they can save time and money. She also runs the Shortcuts for Writers: Editing Made Simple group on Facebook. Join her Facebook group and download the free toolkit 7 Simple Steps To Nailing Your Book Blurb. You can also visit her website Shortcuts for Writers and her Hockey Rivals website.